The most difficult/pain in the ass part of trying to keep up with a blog is posting.
Resizing photos, centering the text, fighting the cat that wants to sit on the keyboard... 😒
The emoji's make it all worth it
I am done trying to make the blog page pretty and centered.
We are going rogue
Stalking eBay for half scale minis, these DIY half scale kits are all over my feed.
One of my mini FB friends shared pictures of her finished kit. After asking some questions, she liked the kit, but did point out that it is larger than half scale, but smaller than full.
I bought and finished my first kit (yes, I anticipate many more)
Just in case you can't read Chinese/Japanese symbols, I started with the art studio. This is
Robotime
kit.
I
Pieces are a little too bulky to incorporate into a half scale scene
Box suggestion:
My version:
When I think of a art studio in my mini head, an old warehouse brick building pops in
Instead of using the art work that came with this kit, I used my husbands art that he painted.
I am happy without how it turned out - and so is the cat
All said and done - and checking out the other DIY kits, the
Rylai
brand really gets my attention.
This kit will be arriving soon.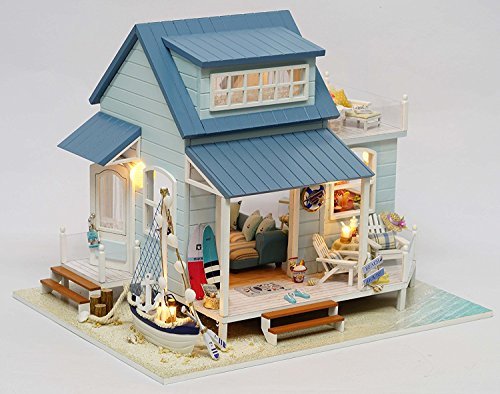 Jumping to the half scale Victorianna -
I resorted to my stash of kitchen pieces from a
friend
years ago.
Again going rogue, I am going to break the dollhouse rules.
It's not like this is a Bespaq kitchen and I am hiding the beauty.
The kitchen will be displayed from the back side.
Balsa can hide the back.
After looking at these dry fit pics, I just now decided to not use all the uppers.
The cabinets turned out OK. My fancy new dremel hubby bought me for Christmas cut the bumps on the upper cabinets smoothly.
I spray painted the cabinets a satin off white. Using the sharpies my daughter bought me for Christmas, I added the drawer pulls. The upper cabinets handles came out a little heavy. Not a big deal, as I am not using them.
After finishing a room box that reminds me of my dear old dad, I knew I had to do something representing my mom.
I tease my mom mostly for her 'lawn garbage.' It is not like she lives like Sanford and Sons by any means, but just a lot more - um - 'treasures' than what my sense (or lack) of style prefers.
I bought a planter that was on clearance at Lowe's.
This was in my pre-dremel ownership
(I had one before but it was lost in one of our moves)
I used a drill to create many holes to cut the planter down.
I am working on a mini version of her front yard and front of her house.
This has been a slow start, but once I started, the ideas starting start flowing
I'll actually let my mom keep this at her house.
It is hard for me to part with my birch tree and some of the other minis that have been sitting in a tote for a couple years now. This will sound awful, but I am awful - I will get it back some day.
On to the full scale kitchen - Our real kitchen.
These are the photos from when the house was listed.
Kitchen is OK, but DH likes to cook, and this just was not working for him.
DH wanted to flip flop the dining room and kitchen. That meant gutting the entire space and switching the sliding glass door and kitchen window.
It took DH 6 weeks to do this renovation. Actually only 5. One weekend was wasted replacing a 30 year old water heater to a tank-less one.
The flooring is ceramic.
I can't believe how grown up my little girl has gotten.
A couple of her senior pictures
Started out typing with a 3 pound cat on my lap
Ended with a 33 pound dog